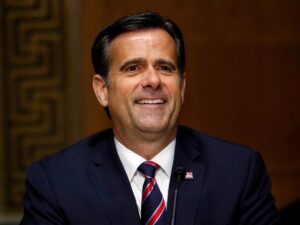 Former Director of National Intelligence John Ratcliffe expressed support for the Central Intelligence Agency's creation of a unit focused on the threat from China in a recent exclusive interview with Breitbart News, noting the move is in line with what he had begun in the Trump administration.
"I'm glad that they're coming around to our way of thinking on this and being honest about China as the threat that they truly are," Ratcliffe said in the interview on Monday.
He said, at the time, critics of the Trump administration had accused him of focusing on China in order to downplay the threat from Russia but that the CIA's move shows his concerns were well-founded.
"This is exactly what we were working toward but were criticized for at the time — it's a recognition of the necessary shift to China. Some folks incorrectly thought when I talked about the need to shift our focus to China that it was for political reasons as opposed to national security reasons," Ratcliffe told Breitbart News. "The events that have unfolded clearly show that I was being truthful. But I'll give credit where credit is due — better late than never. I'm just glad that there's finally a conversation that is consistent with what the intelligence reflects."